Atlantic Beach Vinyl Signs
VIEW GALLERY
Vinyl signs are one of the most in-demand signage types out there. Available in various styles, finishes, weights, and colors, it is easy to see why vinyl is a big star in the sign-making industry.
Axe Signs + Wayfinding is a Atlantic Beach vinyl sign provider that has already serviced various businesses in practically every industry. Regardless of the business type, our clients are understandably fond of vinyl signs. Our team has been adorning workspaces, windows, walls, floors, and other flat surfaces with vinyl signs for quite some time now—allowing us to vouch for its functionality and durability.
We offer free consultations where you can tell us all about your business, goals, and signage ideas. If you still don't have a clear choice, we will gladly lay down all your options and help you choose which type of vinyl signs and graphics will suit your business best.
Call Axe Signs + Wayfinding at (904) 454-8546 for your Free Consultation!
Promotional Vinyl Banners
Vinyl banners, available in different sizes, weights, and display options, are arguably the most favored vinyl product in the market. Axe Signs + Wayfinding uses premium vinyl for our banners, ensuring that they display your business information and promotional campaign for a long time. These vinyl banners are best for opening announcements, advertising special promos, and even for simply driving daily traffic to your business.
Depending on your purpose, our team will provide you with the most high-impact and functional vinyl banner with all the proper equipment to securely install them.
Window Vinyl Clings & Film
A lot of vinyl graphics are made for glass and windows. These are perfect for providing privacy for your office or VIP guests. Vinyl films are also the best choice for captivating window displays that are guaranteed to invite new customers on a daily basis.
Axe Signs + Wayfinding creates cut vinyl elements that use either static-cling adhesion or temporary sticky glue upon installation. This vinyl type is more appropriate for short-term uses, such as seasonal promotions and sales. Our window clings can also be removed easily, making them reusable multiple times if properly stored.
Our privacy window films are recommended for every business that operates in a rented space where the removal and replacement of entire windows aren't allowed. They are also popular among offices and other establishments that want privacy yet dislike the permanence and cost of frosted or etched glass panes.
Axe Signs + Wayfinding can customize these vinyl films for you, letting you choose what image or text you would like them to have. Depending on its purpose, we will also guide you in choosing the best texture and style your vinyl should have.
Cut Vinyl Lettering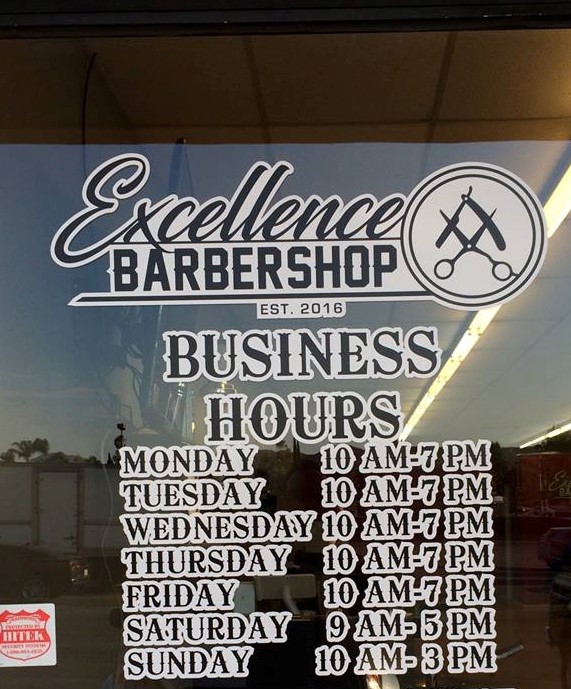 Your front door can be a good place for you to establish your professionalism toward your potential customers.
With cut vinyl lettering and graphics, you can use your door as a holder of vital business information.
Your business name, operating hours, business license, contact information, and other important messages can be professionally posted with vinyl—letting you inform your customers while also increasing their good perception of you.
Cut vinyl lettering and graphics can be a way for you to build your brand, impress your target market, and promote your products and services in a significantly low-cost method.
Wall Murals & Floor Graphics
Aside from the commonly adorned windows and doors, vinyl graphics can also be used on any smooth surface that you can maximize within your establishment. By using various vinyl graphics and large format murals, these surfaces will reinforce your brand, market your business, and assist both customers and staff with wayfinding and informational graphics.
Axe Signs + Wayfinding will ensure that not one corner of your facility will remain lifeless and practically useless. We will help you see which area will be useful and conceptualize the best design to go with your interior theme. This way, we can add aesthetics to your place and put up functional graphics without straying from your branding guidelines.
Vinyl Graphics Options
When it comes to business promotion, vinyl is a wonder material. It comes in a myriad of products that can be further classified into different types and finishes. The color, weight, size, and application of your vinyl choices also vary, making it a bit confusing to choose which one will be best for your business.
Axe Signs + Wayfinding, being a full-service Atlantic Beach vinyl signs provider, offers free consultations where you could tell us all about your goals and ideas. In return, we will give you professional recommendations and, should you like to proceed, present some design samples so you can get a glimpse of what the actual product will turn out to be.
Among the vinyl graphics that we offer are the following:
Axe Signs + Wayfinding will customize any vinyl that you want. From banners to individually cut elements of various shapes and sizes, we will strive to deliver them with high quality to exceed your expectations and help you reach your goals.
Full-Service Vinyl Graphic Shop
A comprehensive Atlantic Beach vinyl signs provider, Axe Signs + Wayfinding can handle every step of the signage-making process with ease and efficiency. Our company is divided into different teams in charge of different steps of the process, ensuring that everyone who will handle your signage project is an expert in their special field.
Our design team consists of creative individuals who can turn even the vaguest ideas into an attractive, functional vinyl signage concept. It doesn't matter what your business is or the purpose you've set for your vinyl graphics. At the end of the day, our design team will give you a sign that looks exactly how you want it. Rest assured that your brand will be consistently reinforced with our designs, and your products or services will always reach your target market.
When it comes to signage and graphics fabrication, our manufacturing team works in an efficient and environmentally-friendly process that ensures quality on every aspect of our product. Considering your location, needs, and budget, we guarantee to give you the most durable material in the most cost-efficient way possible.
Finally, we cap our vinyl sign services off with a proper and smooth installation that leaves no room for errors. Armed with experience and the right equipment, our team will put your vinyl graphics in place without any inconvenience on your part, even making sure that you won't have to clean up after us.
Also, Axe Signs + Wayfinding further offers removal and replacement services for your existing vinyl signs and graphics.
Free Vinyl Signs & Graphic Consultation
Give your business a boost with captivating vinyl graphics that will successfully build your brand consistently. From your storefront to your interior, let us help you maximize your visibility and advertising opportunities in and around your facility. With your unique ideas and our proven signage making techniques, your business is bound to reach more potential customers and increase its average daily ticket.
Call Axe Signs + Wayfinding at (904) 454-8546 for your Free Consultation!