Palm Valley Outdoor Signs
VIEW GALLERY
A well-made outdoor sign is a captivating promotional tool that will guide more new customers straight into your business. Axe Signs + Wayfinding is an established Palm Valley outdoor sign provider that will help you build your brand, promote your business, and reach your target market with reasonably priced, highly visible, and functional exterior signage.
Working with your brand guidelines, we can create an outdoor sign that will help you reach your business goals. If you aren't entirely sure of how you want your signage to turn out, our experts can give you creative and professional advice to help you decide.
Whether you want a full signage collection or various signage elements, trust that Axe Signs + Wayfinding will deliver eye-catching graphics that will be irresistible for all your target market. From outdoor banners to temporary yard signs, we are skilled at creating durable signage to help build your brand and promote your business for as long as you want.
Impress your potential customers. Establish a professional look. Install the best outdoor sign that will give your clients the idea of how great your service will turn out.
Call Axe Signs + Wayfinding at (904) 454-8546 for your Free Consultation!
Storefront & Building Signs

Appearance can make or break a potentially successful business relationship. That's why Axe Signs + Wayfinding understands how challenging it can be to choose the best storefront sign to represent your business.
Your storefront sign options are incredibly extensive. You have to choose from various signage materials, types, styles, sizes, and placement. Before you can choose, you have to consider your business type, location, competitors, goals, and budget.
Not everyone is knowledgeable enough to pick the right signage for their business. Fortunately, Axe Signs + Wayfinding offers professional advice as we help you conceptualize the perfect design for your storefront signage. With our experience, creativity, and eye for detail, trust that we will only recommend the best sign that will make your business outshine your competitors—getting you more customers and increasing your average ticket.
Channel Letters & Dimensional Letters
Regardless of the business industry, channel letters and dimensional letters are popular storefront signage choices. They are highly customizable, which allows you to be fully creative in coming up with a signage plan. You can have them in the form of letters, numbers, symbols, and even your logo.
You are in control of how you want your dimensional and channel letters to look. There is a wide range of font and color choices that you can choose from. Even their placement offers room for creativity since they are versatile, able to function in practically any space on your storefront.
If you don't know the exact way you want your sign to turn out, Axe Signs + Wayfinding has experts who can recommend the most appropriate choices for your business goals and needs.
Channel letters and dimensional letters are effective storefront signs that will work for any business type out there. No matter what industry you're part of, we can customize them to fully represent your brand personality.
Lighted Signs
Mornings aren't the only time of day where establishments are open. For some businesses, sunsets are their cue to start operating. If you own one of these businesses, lighted signs will be great for your outdoor signage project.
Axe Signs + Wayfinding offers different lighted signs that you can choose from. These include backlit dimensional letters, illuminated channel letters, cabinet signs, and digital displays and message boards.
If you want a more budget- and environmentally-friendly option, we also have LED signs that are a good alternative for the classic retro neon signs. LED signs don't cost as much as neon lights and don't require as much maintenance. They are also more energy-efficient and produce less waste.
Some businesses that can benefit from lighted signs are bars, restaurants, nightclubs, convenience stores, comedy clubs, theaters, and gas stations.
Custom Sign Panels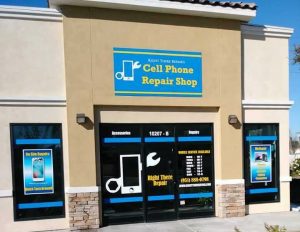 Sign panels are popular among different businesses due to their affordability and versatility. Manufactured from various materials through different methods, sign panels are highly customizable based on your business goals. You can have them with full-color graphics that show as much or as little business information as you want. You can also design captivating images to be put on these solid sign panels. Regardless of how you want them to look, installing them directly on your storefront will guarantee higher traffic within your business.
Sign panels can either be made from cut vinyl attached to a metal plate or come with a lightbox and acrylic panel with some translucent printing. Axe Signs + Wayfinding will help you choose which style and design will work best for your business with regard to your location, budget, and visibility needs.
Any business looking for an effective and customizable storefront sign will find sign panels as a good choice. From small businesses to big manufacturing plants and every business type in between, a customized sign panel will prove to be a helpful promotional tool.
Canopy & Awning Signs
If you want more than just an ordinary sign, Axe Signs + Wayfinding also offers canopy signs that protect your customers from various elements besides promoting your business.
Various materials can be used to manufacture awning signs. However, a stretched canvas is the most common of all, providing an overhang for your business' windows or entrance. This canvas can be utilized to have your business name, logo, and other branding elements printed directly onto it.
Canopy signs are a common choice for salons, specialty shops, jewelry stores, cafes, galleries, and other establishments that favor the boutique feel that these signs provide.
Monument Signs
Monument signs are permanent structures that give your building a one-of-a-kind entrance that will attract your potential customers and visitors. These large structures are made from durable materials that can either be carved or fitted with panels and letters to showcase your business name and other important information.
Based on your location, brand personality, and personal specifications, your monument sign can be made from solid material or incorporated with lighting and digital message boards.
Axe Signs + Wayfinding is skilled at creating and installing monument signs that will best fit goals regardless of the industry you're in. Some of the common facilities that utilize monument signs are government buildings, churches, schools, corporate offices, and resorts.
Pole Signs & Pylon Signs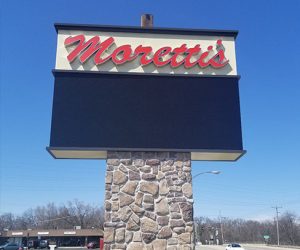 If you want to increase your marketing reach, pole signs, pylon signs, and tenant signs are among your top choices that will increase your visibility and traffic.
Huge and towering pole signs will allow you to reach more people even if they're still a distance away from your establishment. These signs are also beneficial for businesses that aren't located along a major road or an easily accessible area.
Most businesses that use pole signs are shopping centers, supermarkets, fast food, gas stations, and other facilities away from the highway.
Complete Exterior Signage Provider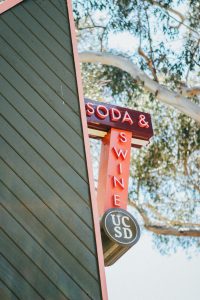 Outdoor signs are vital in establishing an impressive customer perception towards your business, increasing business visibility, and building your brand. Axe Signs + Wayfinding is an all-around Palm Valley outdoor signs provider that offers every type of exterior signage for any business goals or purposes.
We customize any signage of your choice to promote your products or services, highlight special business events, and reinforce your brand through creatively designing your signs and graphics based on your branding guidelines. Our services don't stop at providing outdoor signs either. Need a matching indoor sign? Axe Signs + Wayfinding can provide that too!
The following are some of the outdoor signs that we offer:
You don't have to worry if you can't see the sign you're looking for on the list above. Axe Signs + Wayfinding is fully equipped, knowledgeable, and experienced in providing you with any type of sign that you need for outdoor use. Discuss your signage ideas with our experts today!
Full-Service Exterior Sign Company
Axe Signs + Wayfinding is arguably the best Palm Valley outdoor sign provider that you can work with. With different teams assigned to the different stages of signage making, we offer a wide range of exterior signage choices that are guaranteed to deliver the highest quality.
We ensure that once you work on a signage project with us, you will not regret investing in it at all. Starting our process with a free consultation, we will use this stage to understand your business goals, get to know your brand personality, and learn about your budget and timeframe. We will also conduct an onsite evaluation to assess your location. This way, we can make sure that we will give all appropriate recommendations and come up with the best signage plan that works best for you and your business.
Even if you're not exactly an artist, creating the perfect design for your outdoor sign won't be a problem with Axe Signs + Wayfinding. We have a design team that will help you choose the right colors, fonts, and images even if you don't have existing branding guidelines. If you already do, we will also help conceptualize a fresh design that will reinforce your brand and attract your target market.
Our manufacturing team works side by side with the design team to achieve accuracy in perfecting the design you've approved. We will ensure that all your specifications will be met and that the material we used will be durable for your business location.
After we have successfully created your outdoor sign, our installation team will see to it that your signs and graphics will be properly and securely placed. Visibility and security are two of the main things our team would never overlook upon installation. Additionally, we never leave our workspace in shambles, so rest assured that once we're done with the whole project, all you have to do is appreciate how functional the signage is and get ready to accommodate more customers than usual!
Axe Signs + Wayfinding also offers more than the creation and installation of outdoor signs. We also accommodate other signage needs and offer repair, replacement, and maintenance services.
Free Outdoor Sign Consultation
A captivating outdoor sign may just be what you need to outshine your local competitors. Make your business known and don't let people forget your brand. Talk to our experts about your visibility and promotional needs and hear their suggestions out. Once all your questions have been answered, invest in our compelling outdoor signs and boost your sales today!
Call Axe Signs + Wayfinding at (904) 454-8546 for your Free Consultation!