Palm Valley Monument Signs
VIEW GALLERY
Enhancing your storefront with high-impact outdoor signs is necessary for your business's success. An attractive exterior will result in a widened marketing reach, increasing your traffic and average tickets. Monument signs are one of the most effective business signs in leaving a good first impression.
Axe Signs + Wayfinding can design, fabricate, and install Palm Valley monument signs at a quick turnaround. Our team of signage experts is highly experienced and well-equipped with top-notch signage-making tools. Rest assured, your expectations will be satisfactorily met.
Creating elegant monument signs that boost your visibility and marketing is something our team won't ever fail to do. We will thoroughly consider your design preferences, brand elements, budget, location, signage purpose, and target market as we create a signage plan.
With Axe Signs + Wayfinding, you can ensure that your Palm Valley monument signs will be cost-efficient and highly functional. More importantly, they will be made from durable materials and will let you attract as many customers as possible for as long as you can.
Call Axe Signs + Wayfinding at (904) 454-8546 for your Free Consultation with a Palm Valley Monument Sign expert!

An Impressive Entrance
An attractive entrance is important if you don't want to lose many potential customers to your competitors with better storefront signage. You can't possibly gain good-paying clients and long-time patrons with exterior signs that are shabby, hardly visible, and don't do much in making your brand look trustworthy.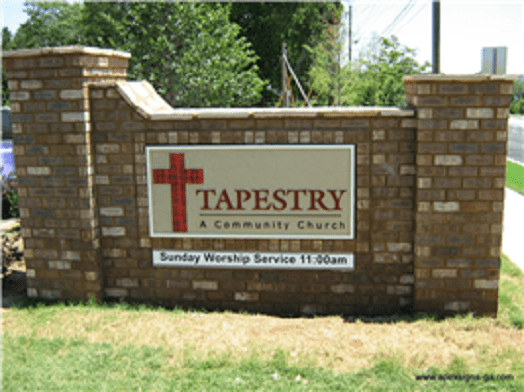 Fortunately, Axe Signs + Wayfinding can help you gain as many customers as you'd like with our high-quality, compelling monument signs. They are not only eye-catching but are also durable enough to fit any type of environmental condition, considering you chose the right signage material. Depending on your preferred look and business location, you can choose any of the following material options: aluminum, brick, concrete, marble, and stone.
You can carve your business name and other essential details on your monument signs. You can also choose to use digital displays instead if they fit your business personality better. They also offer better visibility, whether it's day or night.
Even better, Axe Signs + Wayfinding can also provide you with illuminated monument signs. You can either use exterior landscape spotlights or utilize some LED lighting. Either way, illuminating your monument sign will bring more customers to your business and make your brand more memorable to your target market.
Multi-Tenant Monument Signs
Aside from stand-alone businesses, commercial buildings/areas with multiple tenants see great benefits from installing monument signs. They are typically installed several meters away from a building's actual entrance, making them effective as wayfinding and welcome signage.
With their eye-catching and more elegant appearance, monument signs also act as a landmark that aids people in easily locating your establishment. They are also a better advertising tool if you're looking to gain the attention of as many people in transit as possible. Additionally, monument signs provide information that can be read with ease since they're built at eye level.
More importantly, Axe Signs + Wayfinding guarantees that you will have the signage tailored to last in your specific environment. We will help you choose the right material that will endure through the type of weather you have in your area and consider other external factors that may affect your signage's durability.
Custom Signs for Every Budget
Providing custom business signs is something that Axe Signs + Wayfinding truly excels in, satisfying hundreds of clients throughout our years of service!
In order to ensure that every signage we produce is 100% satisfactory, we uphold the highest industry standards as we create signage designs based on our client's brand, business personality, marketing goals, and target audience. We also uphold the same standards as we choose the best signage material that fits their location and intended duration of usage.
However, we don't only customize signs to meet our client's desired looks and functionality. We also ensure that our signage plan is tailored to fit their budgets as well. So, as you choose the material for your Palm Valley monument sign and finalize the details of its designs, we make sure that we provide expert recommendations that will give the best value for your money.
Free Monument Sign Consultation
For a better chance at succeeding, you should invest in compelling, high-quality outdoor signs and outshine your competitors. Our Palm Valley, FL monument signs offer a reliable way of doing this, impressing your potential customers right off the bat and making your establishment more visible to people in transit.
If you're not sure that a monument sign will fit your brand or advertising goal, our signage experts will be glad to discuss its pros and cons and even offer you other alternatives. We will make sure that aside from your sign's beauty and effectiveness, its cost-efficiency will be satisfactory as well.
Call Axe Signs + Wayfinding at (904) 454-8546 for your Free Consultation with a Palm Valley Monument Sign expert!